KEBIJAKAN PENCIPTAAN LAPANGAN KERJA PEDESAAN ( Kajian Pembangunan Pasar Desa Proyek PDK-MK di Desa Nglundo, Sukomoro, Nganjuk)
Abstract
ABSTRAK
Kebijakan penciptaan lapangan kerja pedesaan melalui proyek PDK-MK ( Penanggulangan Dampak Kekeringan dan Masalah Ketenagakerjaan) tahap II Tahun 1998/1999 merupakan salah satu kebijakan Nasional guna mengatasi dampak krisis ekonomi di sektor ketenagakerjaan. Penelitian yang dilaksanakan merupakan penelitian kebijakan sektor ketenagakerjaan dengan pokok masalah : diskripsi implementasi kebijakan desentralisasi suatu proyek penciptaan lapangan kerja di Desa Nglundo Kecamatan Sukomoro, Kabupaten Nganjuk.
Tujuan penelitian ini adalah (1) mengkaji implementasi kebijakan penciptaan lapangan kerja di desa melalui proyek PDK-MK; (2) menganalisa dampak implementasi kebijakan desentralisasi penciptaan lapangan kerja melalui mekanisme usulan dari bawah terhadap kebutuhan akan lapangan kerja pedesaan.
Methode penelitian yang dipergunakan adalah kualitatif, sedang pengumpulan data melalui observasi, wawancara, dokumentasi, dengan analisa data, secara kualitatif dan induktif.
Hasil penelitian menunjukkan bahwa implementasi kebijakan desentralisasi penciptaan lapangan dengan melibatkan masyarakat melalui usulan dari bawah mendapat respon positif, meskipun terdapat kendala kesinambungan proyek namun telah dapat menciptakan lapangan kerja baru dan menyerap tenaga kerja di desa.
Kata kunci: Lapangan kerja, pedesaan
ABSTRACT
Policy of creating Job Opportunity in villages by second period of the PDK – MK Project (Penanggulangan Dampak Kekeringan dan Masalah Ketenagakerjaan ) was one of National Policies in overcoming impact of economical crisis in any labor sectors. The main theme of the reaseach to the policy of the labor sector was the description of the decentralized policy implementation to the project of creating job opportunity in Nglundo village, Sukomoro subdistrict, Nganjuk Regency.
Goals of this research are (1) to study the implementation of the policy in creating labor market in the village by the PDK – MK project, (2) to analyse the effect of implementating a decentralized the mechanism of aspiration from the bottom in facing the need of job opportunity in village.
The research method was qualitative. Data were collected by observation, interview and documentation, and the data analysis was qualitative and inductive.
The research results showed that the implementation of the decentralized policy in creating job opportunity that involved society got a positive respon, and it had been able to create new job opportunities and work many labor force in village.
Keywords: Employment, rural.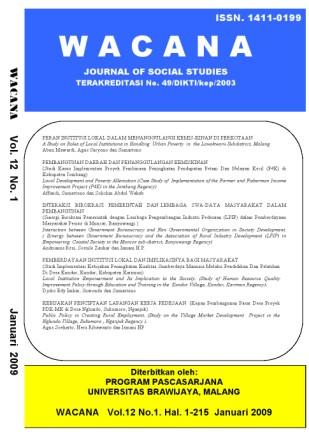 Downloads
License
Authors who publish with this journal agree to the following terms:
Authors retain copyright and grant the journal right of first publication with the work simultaneously licensed under a Creative Commons Attribution License that allows others to share the work with an acknowledgement of the work's authorship and initial publication in this journal.
Authors are able to enter into separate, additional contractual arrangements for the non-exclusive distribution of the journal's published version of the work (e.g., post it to an institutional repository or publish it in a book), with an acknowledgement of its initial publication in this journal.
Authors are permitted and encouraged to post their work online (e.g., in institutional repositories or on their website) prior to and during the submission process, as it can lead to productive exchanges, as well as earlier and greater citation of published work (See The Effect of Open Access).