ANALISIS PEMASARAN KARET DI KABUPATEN KAPUAS
Abstract
ABSTRAK
 
Penelitian terhadap beberapa masalah pemasaran karet rakyat di Kabupaten Kapuas, bertujuan: (1) mengidentifikasikan saluran pemasaran; (2) mengetahui struktur pasar; (3) mengetahui perilaku pasar; dan (4) mengetahui penampilan pasar.
Penelitian ini menggunakan metode survei. Petani responden dipilih secara acak sederhana dari dua desa yang dipilih secara purposive. Pedagang desa, pedagang kecamatan, dan pedagang kabupaten dipilih secara snowball sampling. Saluran pemasaran dijelaskan secara deskriptif dan data kuantitatif dianalisis dengan pendekatan (1) konsentrasi rasio untuk mengetahui struktur pasar karet; (2) korelasi dan elastisitas transmisi harga untuk mengetahui perilaku pasar karet, yakni korelasi untuk keterpaduan pasar karet secara horizontal; elastisitas transmisi harga untuk mengetahui integrasi pasar karet secara vertikal; dan (4) marjin pemasaran dan share keuntungan untuk mengetahui penampilan pasar.
Hasil penelitian ini menunjukkan bahwa (1) saluran pemasaran karet terdiri dari enam macam dan dapat diidentifikasi satu macam saluran terbaik, yaitu petani – pedagang kecamatan – eksportir. Saluran ini digunakan oleh sedikit petani di daerah penelitian, berarti hanya sedikit petani yang memiliki aksesibilitas baik terhadap eksportir. Petani sebagian besar memasarkan karet melalui saluran pemasaran yang dikategorikan sedang, yaitu petani – pedagang desa – pedagang kabupaten – eksportir. Saluran ini terpaksa digunakan, karena petani sudah terikat dengan pedagang dalam rangka memenuhi kebutuhan hidupnya; (2) struktur pasar di tingkat desa, kecamatan dan kabupaten bersifat oligopsoni konsentrasi sedang yang menunjukkan bahwa pedagang memiliki tingkat kekuasaan yang sedang dalam mempengaruhi pasar. Struktur pasar di tingkat eksportir adalah monopsoni yang menunjukkan adanya kekuasaan tunggal ekportir dalam mempengaruhi pasar; (3) perilaku pasar ditunjukkan dengan tidak sempurnanya keterpaduan harga karet pada pasar yang satu dengan harga karet pada pasar yang lain, baik secara horisontal maupun  vertikal; dan (4) penampilan pasar ditunjukkan dengan marjin pemasaran yang relatif besar dan didominasi oleh share keuntungan yang besar dan tidak merata. Hal ini menunjukkan bahwa pemasaran hasil karet tidak efisien, sehingga merugikan pedagang tingkat bawah dan petani yang berposisi paling bawah.
Apabila ditinjau dari segi produksi karet di tingkat petani, perilaku dan penampilan pasar karet yang merugikan pedagang di tingkat bawah dan petani yang berposisi paling bawah, disebabkan kualitas slab di bawah standar kualitas bokar Indonesia.
Struktur, perilaku, dan penampilan pasar yang terjadi sebagaimana yang telah diuraikan sebelumnya, menyebabkan pedagang lebih banyak menikmati keuntungan dan share harga yang diterima petani relatif lebih kecil.
Berdasarkan hasil penelitian ini ditekankan implikasi kebijakan, yaitu:Â Â Â Â Â Â Â Â  (1) perlu adanya suatu lembaga penunjang seperti koperasi untuk memotong keterikatan petani dengan pedagang tertentu. (2) perlu adanya penyebaran informasi harga karet sampai ke tingkat petani; (3) perlu adanya kemitraan dengan Unit Pengolahan Hasil (UPH) untuk perbaikan kualitas slab yang sesuai dengan standar kualitas bahan olah karet Indonesia; dan (4) pemerintah daerah juga memiliki peranan yang penting, misalnya menyediakan prasarana transportasi dan telekomunikasi serta mengontrol lembaga penunjang lainnya, seperti lembaga perbankan dalam penyediaan fasilitas kredit kepada petani dan pedagang.
 
Kata kunci: pemasaran karet
 
 
ABSTRACT
 
The study on some problems of public rubber marketing in the Kapuas Regency aimed at: (1) identifying the marketing channel; (2) knowing the marketing structure; (3) knowing the marketing conduct; and (4) knowing the marketing performance.
The study used the survey method. The farmers were selected as respondents by purposive simple random sampling. Rural wholesalers, distric wholesalers, and regency wholesalers were selected by snowball sampling. The marketing channel was descriptively explained and the quantitatif data were analyzed by: (1) the ratio consentration approach to know the market structure of rubber; (2) the corellation and prize transmission elasticity to know the market conduct of rubber, namely the corelation for the horizontal rubber market integration; the price trasmission elasticity to know vertical rubber market integration; and (3) the marketing margin and profit share to know the marketing peformance.
The study result indicate that (1) there were six kinds of rubber marketing cannel, the best of which was the farmer – district wholesaler – exporter channel. This cannel was used by only a few farmers in the area under investigation, thus only a few farmers had good access to the exporter. Most of the farmers marketed their rubber through the medium marketing channel
That was the farmer - rural wholesaler - regency wholesaler – exporter channel. The farmers were forced to use this channel because they highly depended on the wholesaler in fulfilling daily needs; (2) the market structure at village level, distric level, and regency level was of middle concentration oligopsony revealing that the farmer only had medium power in influencing the market. The market structure at the exporter level was monopsonic showing that only the exporter had power over the market; (3) the market conduct showed improper integration of rubber price at the markets, both horizontal and vertical; and (4) the market performance showed a relatively big marketing margin and was dominated by a big and uneven profit share. This shows the inefficiency of rubber marketing, harming the low level wholesalers and farmer at the lowest position.
Looking at it from the rubber production at farmer level, the market conduct and performance harm the wholesaler at lower level and the farmers at lowest position, because the quality of rubber was lower than the Indonesian standard rubber quality.
Due to the structure, conduct, and peformance of the market as explained ebove, the wholesaler received more profit and the farmer receives less price share.
Base on the research result, it is suggested that: (1) a supporting institution suct as cooperative is paramount to cut the dependence of the farmer on certain wholesalers; (2) the distribution of information about the rubber price has to reach the farmer level; (3) partnership with the Yield Processing Unit (YPU) for the quality enhancement has to be in line with the rubber quality standard in Indonesia; and (4) the local government has an important role, such as in providing transportation and telecommunication means and controlling the other supporting institutions, such as banking institution in providing the credit facilities for the farmers and wholesalers.
 
Keywords: rubber, marketing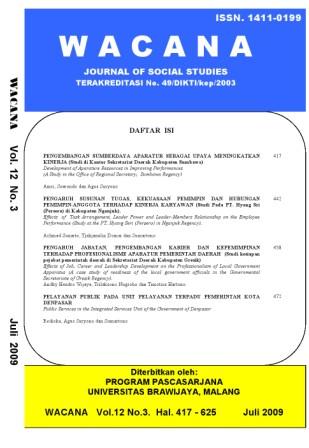 Downloads
License
Authors who publish with this journal agree to the following terms:
Authors retain copyright and grant the journal right of first publication with the work simultaneously licensed under a Creative Commons Attribution License that allows others to share the work with an acknowledgement of the work's authorship and initial publication in this journal.
Authors are able to enter into separate, additional contractual arrangements for the non-exclusive distribution of the journal's published version of the work (e.g., post it to an institutional repository or publish it in a book), with an acknowledgement of its initial publication in this journal.
Authors are permitted and encouraged to post their work online (e.g., in institutional repositories or on their website) prior to and during the submission process, as it can lead to productive exchanges, as well as earlier and greater citation of published work (See The Effect of Open Access).