Analyzing an Integrated Planning Approach Among Planning Scale and Sector A Case Study of Malang City's Vision as The City of Education
Abstract
Integrated planning is more needed by government today because of the complexity of problems and limited resources. Integrated planning can undertake the problems by giving comprehensive solution and provide how much resources are needed to reach the goal. Integrated planning approach is implied to provide better tools to guide actions towards the development of cities, improvement of human conditions, and ultimately a better urbanism. So the research focused on integrated planning in Malang City based on Malang City's vision, strategic planning, operational planning, budgeting planning in Malang City to achieve Malang City's vision as the city of Education. In this study, researcher used qualitative method with descriptive research, which is a research process aims to describe the exact nature / something happened and took place on the research conducted. The research purpose is to identify and describe and analyze the process of Malang City Planning Agency integrate other planning scale and sector in developing planning; and to identify, describe and analyze the process of Malang City Planning Agency integrated all stakeholders in Integrated Planning process. This research use descriptive research method. The reason to use descriptive research method in this study because the principle objectives of this study aimed to describe, illustrate in a systematic, factual and accurate statement of the facts and the relationship between phenomenon. Then qualitative method was directed at the individual's background and a holistic (whole). So in this case should not isolate the individual or organization into a variable or hypothesis, but should view it as part of wholeness. The result of this research in the case study of Malang City has shown thatThe case study of Malang City showed that various sectors recognized but did not pay much attention to Malang City's vision as City of Education in their plans; however, Regional Mid-term Development Plan by Malang City's Planning Agency clearly mentioned this vision. The research conclusion is  correlation between planning documents. The combination between one planning documents to other documents. The efforts to improve integration and synergy with establishment was done by creating a path between plans drawn up by the local governments for Regional Mid-term Development Plan, strategic planning on Department and Agency, operational planning and also between the planning documents and the budget document; and Collaborate between one sectors to other sector. All sectors can be directed to refer to the mission to be achieved by the use within the government in a way they were not mutually focus on their own business but work together and support each other to realize Malang city as the city of education.
Keyword : Integrated Planning, Malang City, Malang City's Vision, City of Education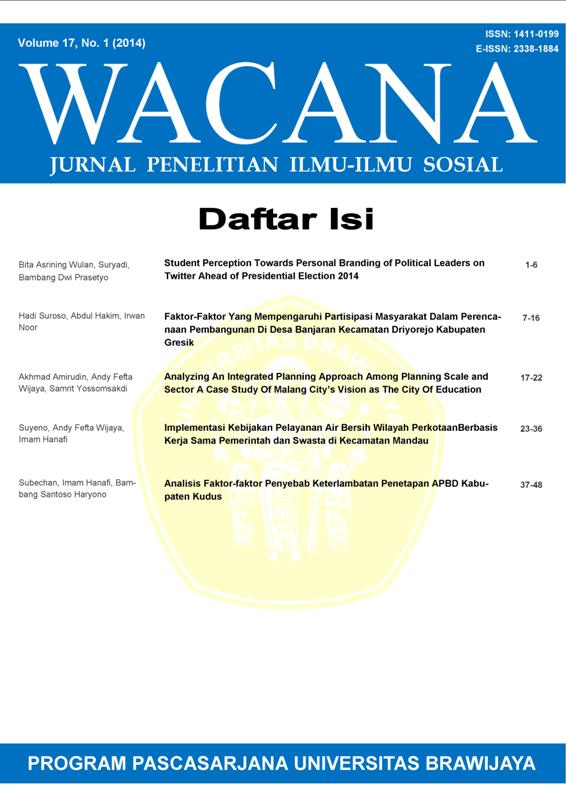 Downloads
License
Authors who publish with this journal agree to the following terms:
Authors retain copyright and grant the journal right of first publication with the work simultaneously licensed under a Creative Commons Attribution License that allows others to share the work with an acknowledgement of the work's authorship and initial publication in this journal.
Authors are able to enter into separate, additional contractual arrangements for the non-exclusive distribution of the journal's published version of the work (e.g., post it to an institutional repository or publish it in a book), with an acknowledgement of its initial publication in this journal.
Authors are permitted and encouraged to post their work online (e.g., in institutional repositories or on their website) prior to and during the submission process, as it can lead to productive exchanges, as well as earlier and greater citation of published work (See The Effect of Open Access).