ANALISIS PENGARUH PENGGUNAAN FAKTOR PRODUKSI USAHATANI JAGUNG (Zea mays L)
Abstract
Penelitian ini dilakukan untuk menganalisis produksi, penerimaan, biaya dan pendapatan usahatani jagung; dan menganalisis pengaruh faktor produksi benih, pupuk, pestisida dan tenaga kerja terhadap produktivitas jagung. Penelitian dilakukan di Desa Munjung, Kecamatan Batu Mandi, Kalimantan Selatan.
Penentuan petani sebagai sampel dilakukan secara Stratified Random Sampling berdasarkan strata luas lahan. Langkah awal dilakukan pendataan populasi  petani tanaman jagung yang berjumlah 174 petani dengan luas kepemilikan lahan yang berbeda. Berdasarkan data primer diketahui rata-rata luas lahan petani berkisar 0,524 hektar.  Kemudian   luasan   kepemilikan   lahan dikelompokkan menjadi dua strata  yaitu: strata I  ‹ 0,524 ha, strata II ≥ 0,524 ha. Pengambilan sampel pada masing-masing strata diambil secara proporsional, untuk strata I : 19 petani dan strata II : 8 petani.
Hasil penelitian menunjukkan rata-rata produksi jagung sebesar 3.899 kg/ha biji kering, dengan harga Rp. 1.050/kg.  Penerimaan usahatani sebesar Rp. 4.093.950,oo/ha; dengan rata-rata besar biaya produksi Rp. 1.989.000,oo/ha.  Dengan demikian diperoleh rata-rata pendapatan usahatani jagung sebesar Rp. 2.104.950,oo/ha.  Faktor produksi benih SP36 berpengaruh nyata terhadap produksi jagung, sedangkan pupuk, pestisida dan tenaga kerja tidak berpengaruh nyata terhadap produksi jagung.
Kata kunci: Faktor Produksi, Usahatani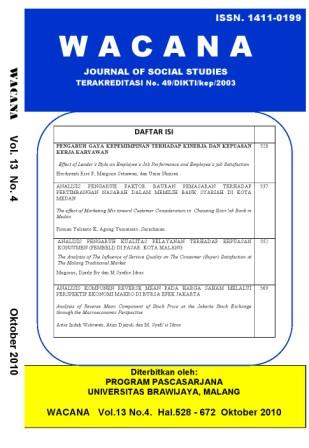 Downloads
License
Authors who publish with this journal agree to the following terms:
Authors retain copyright and grant the journal right of first publication with the work simultaneously licensed under a Creative Commons Attribution License that allows others to share the work with an acknowledgement of the work's authorship and initial publication in this journal.
Authors are able to enter into separate, additional contractual arrangements for the non-exclusive distribution of the journal's published version of the work (e.g., post it to an institutional repository or publish it in a book), with an acknowledgement of its initial publication in this journal.
Authors are permitted and encouraged to post their work online (e.g., in institutional repositories or on their website) prior to and during the submission process, as it can lead to productive exchanges, as well as earlier and greater citation of published work (See The Effect of Open Access).