HUBUNGAN FAKTOR-FAKTOR SOSIAL EKONOMI DAN PSIKOLOGI DENGAN TINGKAT PENERIMAAN USAHATANI PADI
Abstract
Tujuan penelitian ialah untuk menganalisis hubungan antara faktor-faktor umur, pendidikan dan pengalaman kerja (faktor sosial), luas lahan garapan, jumlah anggota keluarga (faktor ekonomi), motivasi kerja (faktor psikologi) dengan tingkat penerimaan usahatani padi.
Penentuan lokasi peneltiian dilakukan secara purposive dan penentuan sampel secara simple random sampling. Metode pengumpulan data menggunakan kuisioner dan datanya dianalisis dengan uji Chi Kuadrat untuk mengetahui hubungan antar variabel, dilanjutkan dengan uji koefisien kontingensi.
Hasil penelitian menunjukkan rata-rata tingkat penerimaan usahatani padi per tahun sebesar Rp. 7.725.677,42. Rata-rata umur petani 44,62 tahun dengan kategori tua 58,06 persen dan muda 41,94 persen; pendidikan formal petani 9,48 tahun; jumlah anggota keluarga 3,74 orang; luas lahan garapan 0,71 hektar; pengalaman kerja banyak 25,81 % responden dan pengalaman kerja sedikit 74,19% responden; motivasi kerjanya tinggi 32,26% responden dan motivasi kerjanya rendah 67,74 % responden.
Luas lahan garapan, pengalaman kerja dan motivasi kerja berhubungan erat dengan penerimaan usahatani padi, sedangkan umur, pendidikan formal dan jumlah anggota keluarga tidak berpengaruh terhadap penerimaan usahatani padi.
Kata kunci: Faktor sosial ekonomi, psikologi, penerimaan usahatani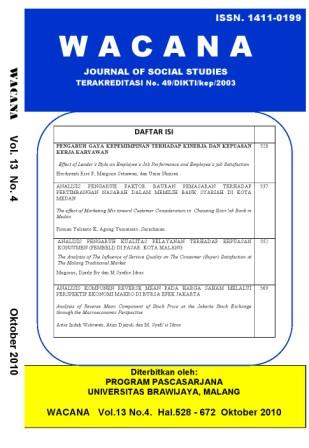 Downloads
License
Authors who publish with this journal agree to the following terms:
Authors retain copyright and grant the journal right of first publication with the work simultaneously licensed under a Creative Commons Attribution License that allows others to share the work with an acknowledgement of the work's authorship and initial publication in this journal.
Authors are able to enter into separate, additional contractual arrangements for the non-exclusive distribution of the journal's published version of the work (e.g., post it to an institutional repository or publish it in a book), with an acknowledgement of its initial publication in this journal.
Authors are permitted and encouraged to post their work online (e.g., in institutional repositories or on their website) prior to and during the submission process, as it can lead to productive exchanges, as well as earlier and greater citation of published work (See The Effect of Open Access).