FAKTOR-FAKTOR YANG DIPERTIMBANGKAN KONSUMEN DALAM PEMBELIAN KAIN DONGGALA DI KOTAMADYA PALU
Abstract
ABSTRAK
Kain Donggala merupakan kain tradisional hasil kerajinan masyarakat Kaili yang mencerminkan ciri khas daerah Sulawesi Tengah. Kain ini selain digunakan untuk upacara-upacara adat, juga untuk pakaian sehari-hari. Industri Kain Donggala ini terus dikembangkan untuk mempertahankan ciri khas daerah sebagai bagian yang tak terpisahkan dari upaya melestarikan seni budaya daerah sebagai asset nasional. Tujuan penelitian adalah untuk mengetahui faktor-faktor yang dipertimbangkan konsumen didalam melakukan pembelian Kain Donggala di Kotamadya Palu. Penelitian ini juga bermaksud untuk mengetahui apakah faktor-faktor yang dipertimbangkan tersebut juga berpengaruh terhadap keputusan pembelian konsumen.
Tehnik yang digunakan untuk menentukan sampel adalah metode Purposive Sampling dan Accidental Sampling. Purposive dalam menentukan toko dan sentra industri Kain Donggala, karena di Kotamadya Palu terdapat banyak toko dan sentra industri yang menjual produk tersebut. Dan Accidental sampling digunakan untuk menentukan responden yang dijadikan sampel. Jumlah sampel yang diambil adalah sebanyak 153 orang. Alat analisis yang digunakan dalam penelitian ini adalah Analisis Faktor dan Analisis Regresi Linier Berganda. Dengan analisis faktor diperoleh hasil bahwa terdapat 7 faktor yang dipertimbangkan oleh konsumen didalam melakukan pembelian Kain Donggala. Ketujuh faktor tersebut adalah : (1) faktor budaya, ekonomi, dan psikologis, (2) faktor gaya hidup, (3) faktor mutu, (4) faktor promosi, (5) faktor reperensi, (6) faktor harga, dan (7) faktor produk.
Dari tujuh faktor yang dipertimbangkan tersebut, dengan menggunakan alat analisis regresi berganda diperoleh hasil bahwa terdapat satu faktor yang berpengaruh signifikan terhadap keputusan pembelian konsumen pada a = 1%. Faktor tersebut adalah faktor 1 (budaya, ekonomi dan psikologis). Hasil penelitian ini menunjukkan bahwa faktor yang signifikan berpengaruh secara positif terhadap keputusan pembelian merupakan faktor eksternal (nilai budaya) dan faktor internal (persepsi dan sikap) konsumen terhadap Kain Donggala. Hasil ini terkait erat dengan jenis produk yang diteliti yang penggunaannya terkait dengan aspek-aspek budaya dan psikologis konsumennya.
Kata kunci: faktor-faktor yang dipertimbangkan, keputusan pembelian
 
 
 
ABSTRACT
 
The Donggala cloth is a traditional handicraft of the Kaili people of Central Sulawesi. The cloth is used for traditional ceremonies and daily activities. This industry has been developed to maintain the area's special characteristics as a national asset. The study was aimed at determining the factors considered by the local consumers in purchasing the Donggala cloth in the Palu, municipality and whether the factors influence the consumers purchasing decision.
Purposive sampling and accidental sampling were used as the sampling methods. Purposive Sampling was used in determining the stores and industry centers offering the Donggala cloth, considering the many stores and industry centers offering the product. Accidental sampling was used in determining the samples. There were 153 respondents chose has samples. Factor analysis and multiple regression analysis were used as the analysis instruments. By factor analysis it was found that 7 factors, among the 15 variables selected from the 19 examining variables, were positively considered by consumers in purchasing the Donggala cloth. They were: (1) culture, economy and psychology; (2) life style; (3) quality; (4) promotion; (5) reference; (6) price; and (7) product.From those factors, multiple regression showed that the culture,  economy and psychology factors significantly influence (a = 1%) the consumer purchasing decision.
The result showed the significant factors which positively influenced the purchasing decision were both the internal and external factors. It seemed that the results were closely related to the examined product, of which the  utilization was closely related to its consumers culture and psychology aspects.
Keywords: the factors considered, the consumers purchasing decision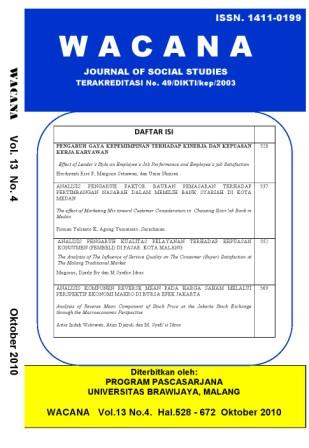 Downloads
License
Authors who publish with this journal agree to the following terms:
Authors retain copyright and grant the journal right of first publication with the work simultaneously licensed under a Creative Commons Attribution License that allows others to share the work with an acknowledgement of the work's authorship and initial publication in this journal.
Authors are able to enter into separate, additional contractual arrangements for the non-exclusive distribution of the journal's published version of the work (e.g., post it to an institutional repository or publish it in a book), with an acknowledgement of its initial publication in this journal.
Authors are permitted and encouraged to post their work online (e.g., in institutional repositories or on their website) prior to and during the submission process, as it can lead to productive exchanges, as well as earlier and greater citation of published work (See The Effect of Open Access).