PENDIDIKAN DAN PELATIHAN KEPEMIMPINAN SEBAGAI STRATEGI PENGEMBANGAN SUMBERDAYA APARATUR UNTUK MENINGKATKAN KINERJA (Suatu Kajian di Pemerintahan Daerah Kabupaten Ketapang)
Abstract
ABSTRAK
Otonomi daerah memberikan peluang yang lebih besar untuk kemajuan daerah tantangan kepada daerah disebabkan kinerja aparatur pemerintah daerah yang masih relatif rendah. Pengembangan sumberdaya aparatur, yang intinya adalah pendidikan dan pelatihan bagi aparatur, mutlak dilakukan dalam rangka meningkatkan kinerja.
Penelitian ini bertujuan mendeskripsikan dan menganalisa pelaksanaan program pengembangan sumberdaya aparatur di Kabupaten Ketapang serta dampaknya terhadap kinerja aparatur di daerah. Penelitian ini merupakan penelitian yang menggunakan pendekatan kualitatif. Proses analisa data mengikuti model analisa yang dikemukakan oleh Miles dan Huberman (1992) dengan model interaktif, meliputi tiga alur kegiatan yaitu reduksi data, penyajian data  dan penarikan kesimpulan/verifikasi.
Dari penelitian ini ditemukan hal-hal: (1) Pelaksanaan diklatpim tingkat IV di Kabupaten Ketapang ternyata masih dirasakan banyak kekurangan dan kendala. Kekurangan yang sangat dirasakan dari segi penyelenggaraan  diklat adalah mengenai materi diklat dirasakan terlalu luas, kurangnya kemampuan pelatih dalam menciptakan suasana kelas yang mampu membuat peserta tertarik untuk mengikuti kegiatan di kelas, serta sarana dan prasarana diklat yang kurang memadai; dan (2) Tujuan pelaksanaan diklatpim tingkat IV di Kabupaten Ketapang belum sepenuhnya tercapai. Alumni diklatpim tingkat IV di Kabupaten Ketapang tahun 2003 banyak yang menanggapi bahwa sebenarnya diklatpim tingkat IV tidak terlalu dirasakan dapat meningkatkan kemampuan mereka dalam bekerja. Tidak begitu nyatanya dampak pelaksanaan diklat terhadap peningkatan kinerja juga dirasakan oleh atasan langsung yang dalam hal ini merupakan pengguna langsung alumni diklatpim tingkat IV tersebut.
Saran yang dapat diberikan dari penelitian adalah : (1) perlu dipelajari tentang kemungkinan pembentukan lembaga tersendiri yang khusus menangani kegiatan pendidikan dan pelatihan dalam lembaga pemerintah Kabupaten Ketapang; (2) Untuk mengetahui seberapa jauh pencapaian tujuan diklatpim yang telah dilaksanakan oleh pemerintah Kabupaten Ketapang kiranya perlu diadakan evaluasi terhadap kinerja lulusan diklatpim tingkat IV tersebut. Hasil evaluasi terhadap peserta diklat tersebut juga nantinya dapat digunakan sebagai bahan untuk perbaikan penyelenggaraan diklat di masa mendatang.
 
Kata kunci: kepemimpinan, sumberdaya, aparatur
 
ABSTRACT
Local autonomous give larger opportunity for progress of local and also challenge to local performance of aparatus of local governance which still relative lower. Development of aparatus resources, which its core is education and training for aparatus, is absolutely needed in improving performance.
This research was aimed to describe and analyze aparatus resources development program of the Ketapang Regency Governance, through leadership education and training and also its impact on the performance of local govern aparatus.
This research using qualitative research approach. Process analysis of data follow model of analysis proposed by Miles and Huberman (1992) with interactive model, covering three path of activities that are reduce data, presentation of data and verification.
Results of this research are the followings (1). Leadership education and training level IV at the Ketapang Regency still really be felt by a lot of insuffiency and constraint. Very insuffiency felt from facet of management of leadership education and training level IV is materials of its felt too wide, lack of ability of coach in creating atmosphere of class capable to make audiences interested to follow activity in class, and also medium which less be adequate (2). Target of leadership education and training level IV at the Ketapang Regency Govern not reached full yet. A lot of collegiate of leadership education and training level IV year 2003 at the Ketapang Regency Govern answered that in fact leadership education and training level the IV did not too felt can improve their ability in working. There is no reality affect of leadership education and training to improve of performance also felt by direct supervision which in this case represent direct consumer of collegiate of leadeship education and training level IV.
Suggestions which can be given from this research are (1). Presumably require to be learned by about possibility of special separate institute forming handle training and education activity in govern agency of the Ketapang Regency (2). To know how far the target of leadership education and training level IV attainment which have been executed by the Ketapang Regency Government presumably require to be performed by evaluation to grad leadership education and training performance level IV. Result of evaluation to the competitor of leadership education and training also later serve the purpose of the substance for the management of leadership education and training repair in a period of coming.
 
Keywords: leadership, aparature, performance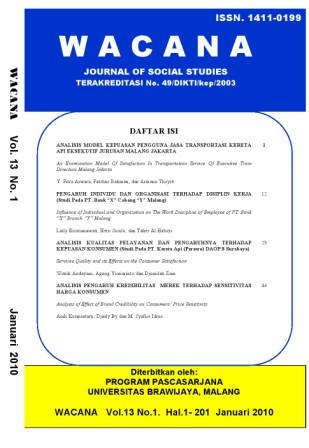 Downloads
License
Authors who publish with this journal agree to the following terms:
Authors retain copyright and grant the journal right of first publication with the work simultaneously licensed under a Creative Commons Attribution License that allows others to share the work with an acknowledgement of the work's authorship and initial publication in this journal.
Authors are able to enter into separate, additional contractual arrangements for the non-exclusive distribution of the journal's published version of the work (e.g., post it to an institutional repository or publish it in a book), with an acknowledgement of its initial publication in this journal.
Authors are permitted and encouraged to post their work online (e.g., in institutional repositories or on their website) prior to and during the submission process, as it can lead to productive exchanges, as well as earlier and greater citation of published work (See The Effect of Open Access).