KAJIAN PEMBERDAYAAN PEMERINTAHAN DAERAH Evaluasi Implementasi Otonomi Daerah Di Kabupaten Nganjuk
Abstract
ABSTRACT
 
Evaluation on the OTODA (local autonomy) in Nganjuk regency is given more emphasis on the evaluation of the implementation of the 1974 Regulation Number 5. It is due to the fact that its implementation shows empowerless of the local government since the central or provincial governments give more intervention to the domestic matters of the local government, namely Nganjuk regency. All policies made by the local government should get an agreement from the central or provincial governments, besides being supported by a top down planning system showing a governmental system with centralistic tendency.
In this research, it is found that the implementation of real and responsibility autonomy is not in line with the purposes and goals as stated in Regulation Number 5, 1974 as its implementation tends to the centralistic governmental system so the local government is less powerful. The phenomena are (1)  services to the people, implementation of development and government can run effectively if the local government is given authority to implement all governmental matters as its own matters emphasizing harmony and democracy aspects, (2) stronger  deconcentration institution and weaker decentralization institution have hampered the implementation of local autonomy and development. (3) to make the local government more powerful, enough sources of local original incomes (PAD) are needed, and the local government are free to discover PAD especially from  local tax and retribution which are the most important factors; (4) local and social empowerment through  local regulations  treating local governments to be implementer, so they never reach the intended purposes. Authority to plant, implement and control themselves  will enable the local government to be able to give good and appropriate advantages as needed; and (5) in order to realize the local autonomy with intended and right needs, namely the realization of top services, clean government and good governance, qualified and good actors are needed, and it needs good human resources.
 
Keywords: Local government, local autonomy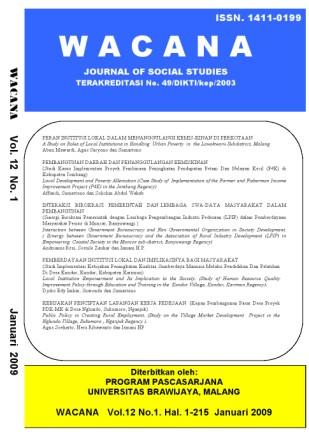 Downloads
License
Authors who publish with this journal agree to the following terms:
Authors retain copyright and grant the journal right of first publication with the work simultaneously licensed under a Creative Commons Attribution License that allows others to share the work with an acknowledgement of the work's authorship and initial publication in this journal.
Authors are able to enter into separate, additional contractual arrangements for the non-exclusive distribution of the journal's published version of the work (e.g., post it to an institutional repository or publish it in a book), with an acknowledgement of its initial publication in this journal.
Authors are permitted and encouraged to post their work online (e.g., in institutional repositories or on their website) prior to and during the submission process, as it can lead to productive exchanges, as well as earlier and greater citation of published work (See The Effect of Open Access).