PEMBANGUNAN DAERAH DAN PENANGGULANGAN KEMISKINAN (Studi Kasus Implementasi Proyek Pembinaan Peningkatan Pendapatan Petani Dan Nelayan Kecil (P4K) di Kabupaten Jombang)
Abstract
ABSTRAK
 
Pentingnya program pemberdayaan dalam rangka menanggulangi kemiskian, salah satunya Program P4K adalah agar lingkaran setan kemiskinan dapat diputus sehingga kemakmuran dan implementasi pembangunan menampakkan hasil yang nyata. Dalam pembangunan di Indonesia, penanggulangan kemiskinan dan pemberdayaan telah dijadikan titik sentral, dimana program tersebut dijalankan secara serentak dan terkoordinir di daerah-daerah yang dikenal dengan kegiatan Pembinaan Peningkatan Pendapatan Petani dan Nelayan Kecil (P4K). Permasalahan dalam penelitian ini adalah bagaimana implementasi kebijakan pembangunan Pemerintah Daerah (Program P4K) dilaksanakan dalam rangka penanggulangan kemiskinan dan bagaimana pembangunan dalam memberdayakan petani dapat meningkatkan pemahaman dan pengetahuan petani serta upaya-upaya dan hambatan-hambatan apa saja yang dihadapi Pemerintah dalam melaksanakan Program P4 dalam rangka penanggulangan kemiskinan di Kabupaten Jombang.
Tujuan penelitian ini adalah: (1) mendeskripsikan dan menganalisis implementasi kebijakan pembangunan (Program P4K) dalam rangka penanggulangan kemiskinan; (2) mendeskripsikan dan menganalisis pembangunan dalam memberdayakan petani sehingga dapat meningkatkan pemahaman dan pengetahuan petani, serta mengetahui upaya-upaya dan hambatan-hambatan pelaksanaan Program P4K dalam rangka penanggulangan kemiskinan di Kabupaten Jombang.
Dengan menggunakan pendekatan kualitatif, hasil penelitian ini disimpulkan bahwa, Program P4K sebagai upaya pemberdayaan kaum miskin pedesaan dengan pemberian bantuan modal, banyak dimanfaatkan oleh masyarakat desa untuk membuka usaha baru dan industri kecil lokal. Keberhasilan Program P4K di Kabupaten Jombang memiliki ciri khas tersendiri, yaitu Program P4K banyak diikuti kaum perempuan petani, sehingga kemampuan petani dalam memanfaatkan dan menyerap dana bantuan P4K sangat tinggi ditunjukkan banyak KPK yang antri untuk memperoleh bantuan atau peningkatan dana bantuan. Orientasi pembangunan dengan tujuan memberdayaakan masyarakat berhasil dengan mempertimbangkan aspek-aspek penting dalam masyarakat. Keberhasilan Program P4K di Kabupaten Jombang tidak lepas dari partisipasi dan komitmen yang tinggi Pemerintah dan Masyarakat untuk melakukan pembinaan terus menerus dan berkelanjutan, di samping aspirasi dan inisiatif masyarakat diutamakan dalam pelaksanaan Program P4K. Inisiatif petani dalam memanfaatkan Program P4K sangat tinggi dengan terbentuknya kelompok-kelompok yang mandiri.
 
Kata kunci: Kemiskinan, pembangunan daerah
ABSTRACT
 
The importance of empowerment programs in poverty alleviation, as P4K program, is to cut satanic circle of poverty, so prosperous and development implementation can give real result. In Indonesian development, poverty alleviation and empowerment have been the central points, where these programs were implemented simultaneously and coordinated at local areas that known as the Farmer and Fisherman Income Improvement Project (P4K). The research problem is how implementation of the Local Government development policy (P4K) program is implemented in alleviating poverty and how the development in empowering farmer can enhance farmer's understanding and knowledge, and what efforts and obstacles that faced by local government when implement the program in coping poverty at Jombang Regency.
Goals of this research are: (1) to describe and analyze  implementation of  development policy (P4K program) in alleviating poverty, (2) to describe and analyze the development in empowering  farmer so can improve  farmer's understanding and knowledge and to know efforts and obstacles that faced by local government when  implement the program in alleviating poverty in Jombang Regency.
Using qualitative approach, this research conclude that, P4K program as efforts to empower village poor people with giving capital aid, used by villager to establish new business and local industry. The success at Jombang Regency has its own  characteristic, that is, the  program was  participated by women farmer, so farmer's ability in use and absorbing  P4K aid fund is very high, indicated  by the  queue of KPKs to receive aid fund. Development orientation that aimed at empowering of society is success with consider the society important aspects. Success of the P4K at Jombang Regency are related with the high participation and   commitment of local government and society to establish ongoing and continue founding, beside society aspiration and initiative that given priority in that implementation. Farmer's initiatives in use P4K program is very high with established of stand alone group.
 
Keywords: Poverty, local development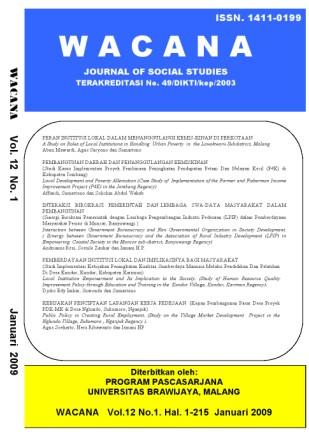 Downloads
License
Authors who publish with this journal agree to the following terms:
Authors retain copyright and grant the journal right of first publication with the work simultaneously licensed under a Creative Commons Attribution License that allows others to share the work with an acknowledgement of the work's authorship and initial publication in this journal.
Authors are able to enter into separate, additional contractual arrangements for the non-exclusive distribution of the journal's published version of the work (e.g., post it to an institutional repository or publish it in a book), with an acknowledgement of its initial publication in this journal.
Authors are permitted and encouraged to post their work online (e.g., in institutional repositories or on their website) prior to and during the submission process, as it can lead to productive exchanges, as well as earlier and greater citation of published work (See The Effect of Open Access).