INTERAKSI BIROKRASI PEMERINTAH DAN LEMBAGA SWADAYA MASYARAKAT DALAM PEMBANGUNAN (Sinergi Birokrasi Pemerintah dengan Lembaga Pengembangan Industri Pedesaan (LPIP) dalam Pemberdayaan Masyarakat Pesisir di Muncar, Banyuwangi )
Abstract
ABSTRAK
 
Penelitian ini dilatarbelakangi oleh adanya fenomena yang ditunjukkan oleh LSM-LSM, yaitu visi dan misi mereka yang jelas mulai berpihak pada pengembangan masyarakat. Pada masa orde baru keberadaan mereka lebih banyak diposisikan sebagai lembaga yang selalu merepotkan setiap kebijakan pemerintah. Sinergi atau pola kerja sama yang baik antara Birokrasi Pemerintah dan (LSM) LPIP sangat penting dalam memberdayakan masyarakat pesisir.
Tujuan penelitian ini adalah untuk: 1). Memperoleh informasi yang akurat tentang respon masyarakat terhadap upaya pembangunan baik yang dilakukan oleh pemerintah maupun LSM; 1). Menemukan kendala-kendala yang dihadapi baik oleh birokrasi pemerintah maupun LSM dalam mengimplementasikan kebijakan dan program pembangunan di tingkat lokal; 2). Mengetahui kekuatan dan kelemahan dari sinergi antara (LSM) LPIP Surabaya dengan Birokrasi Pemerintah Daerah dalam memecahkan permasalahan pembangunan masyarakat pesisir; 3). Mendeskripsikan pemahaman dan respon masyarakat terhadap upaya pemberdayaan yang dilakukan LSM dan Birokrasi Pemerintah; 4). Menyodorkan alternatif pemecahan masalah bagi peningkatan peran birokrasi pemerintahan daerah dalam pelaksanaan pembangunan yang sejalan dengan bingkai pemberdayaan. 5). Memperoleh informasi yang akurat tentang respon masyarakat terhadap upaya pembangunan baik yang dilakukan oleh pemerintah maupun LSM Metode penelitian yang digunakan dalam penelitian ini adalah penelitian deskriptif kualitatif,  yakni penelitian yang bertujuan untuk memperoleh gambaran mendalam tentang permasalahan yang akan diteliti.
Hasil penelitian menunjukkan bahwa: 1) LSM LPIP dalam menangani beberapa konflik menawarkan pendekatan yang berbeda, yaitu memakai strategi pendekatan yang menempatkan masyarakat sebagai pelaku utama dengan melibatkan mereka (tokoh masyarakat, birokrasi, pengusaha)Â  sebagai mediator; 2) hubungan kerja sama antara Pemerintah Daerah Banyuwangi dengan LSM LPIP telah berjalan dengan mencapai hasil yang relatif memuaskan dalam memberdayakan masyarakat pesisir. Hal ini terjadi karena ada kerja sama yang saling mendukung terhadap program dan sasaran yang ingin dicapai; 3) sinergi antara LSM dengan Pemerintah Daerah adalah agar Birokrasi Pemerintah bertindak sebagai fasilitator, motivator, dan dinamisator dalam pembangunan masyarakat. Dalam pembangunan daerah aparat birokrasi tidak akan mampu menjangkau seluruh kebutuhan pembangunan khususnya dibidang sosial ekonomi tanpa melakukan pola kemitraan dengan pihak lain termasuk Lembaga Swadaya Masyarakat (LSM).
 
Kata kunci: Pemberdayaan masyarakat pesisir
ABSTRACT
 
This research is backgrounded by any trends of Non Governmental Organization (NGO) about their vision and mission, which tend into the society development. At new era, they are positioned as institution, which always disturbs government policies. The synergy between government bureaucracy and LPIP is important in empowering rural societies.
This research aims (1) to find the obstacles of government bureaucrasy or NGO on implementing the policy and developing program in local area; (2) to understand the strengths and weakness from synergy between NGO LPIP Surabaya with Local Government bureaucrasy on solving development problem of society which faced by them; (3) to describe the understanding and society response on the empowerment which done by NGO and government bureaucrasy; (4) to give some solving alternatives to local government bureaucrasy role increasing on executing the consistent development with the list of empowerment; (5) to get information, about society response on developing efforts which done by government or NGO. The research method used in this research is qualitative descriptive, that is research which aim to get further description about the problem.
The results of this research show that  NGO LPIP, which handles some conflicts, offered different approach, by using approach strategy, which places society as important actor by involving them (society figure, brirocracy and the entrepreneur) as mediator.  relationship between Local Government of Banyuwangi and NGO LPIP has reached satisfied results on society empowerment. It happened because of the relationship that support the reached program and target. The synergy between NGO and Local Government are Bureaucrasy Government as Facilitator, motivator and dynamizator  on society development.
On local development, government will not reach all of development needs especially in social economic without doing relationship with another actors include NGO.
 
Keywords: Coastal society, empowerment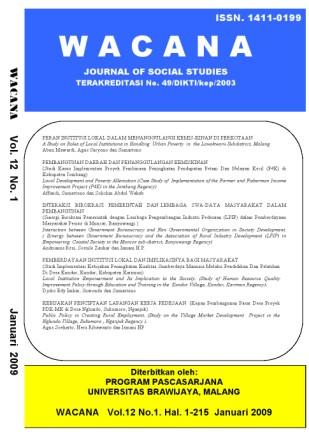 Downloads
License
Authors who publish with this journal agree to the following terms:
Authors retain copyright and grant the journal right of first publication with the work simultaneously licensed under a Creative Commons Attribution License that allows others to share the work with an acknowledgement of the work's authorship and initial publication in this journal.
Authors are able to enter into separate, additional contractual arrangements for the non-exclusive distribution of the journal's published version of the work (e.g., post it to an institutional repository or publish it in a book), with an acknowledgement of its initial publication in this journal.
Authors are permitted and encouraged to post their work online (e.g., in institutional repositories or on their website) prior to and during the submission process, as it can lead to productive exchanges, as well as earlier and greater citation of published work (See The Effect of Open Access).