KAJIAN STRUKTUR SOSIAL MASYARAKAT NELAYAN DI EKOSISTEM PESISIR
Abstract
Abstrak
Tujuan penelitian ini adalah menganalisis perubahan sosial masyarakat dan dinamika kapasitas ruang dan titik kritis struktur sosial dalam ekosistem pesisir. Penyebab utama perubahan struktur adalah masuknya unsur-unsur pembentuk struktur dari luar (individu, sistem), atau karena meningkatnya akses masyarakat terhadap perubahan di lingkungan lokal, maupun di lingkungan sosial luarnya. Dinamika kapasitas ruang struktur sosial di ekosistem pesisir Karanggongso selama masa pengamatan dapat dijelaskan melalui dua indikator penting, obyektif dan subyektif. Titik kritis ada yang berlaku secara umum, dan ada yang berlaku secara khusus. Penelitian ini menjelaskan bahwa teori evolusi berpeluang besar untuk disintesakan dengan teori-teori lain seperti teori konflik, ekuilibrium, dan teori timbul –tenggelam. Proses sistesa ini merupakan langkah opearasional pemetaan teori skematis yang dilakukan oleh Appelbaum. Dinamika struktur sosial sangat penting diketahui oleh pemeritah dan LSM, yang mana mereka memiliki perencanaan pembangunan dalam masyarakat nelayan.
Kata kunci: struktur sosial, evolusi, kapasitas ruang, titik kritis
ABSTRACT
Research aim is to analyse any social changes and dynamic of space capacity and critical point of social structure in  coastal ecosystem. The main factor of  structural change is external factor of structural formation (individu , system), or increase of community access to the change of local social environment, and external social environment.
Dynamics of space capacity of social structure in coastal ecosystem of Karanggongso during periode of research can be explained through the two indicators, objective and subjective. There are a general critical point and a special critical point.
This results explain that a evolution theory  suggest a high possibility to be synthesized with any other theories, e.g. a conflict theory, an equilibrium theory,   and a "timbul-tenggelam†theory. The synthesis process is an operational stage in a schematic mapping of theories by Appelbaum. Dynamics of social structure must be known bt any goverment and NGO, which have any development plans in the fisherman community.
 
Keywords: social change, space capacity, critical point, coastal ecosystem.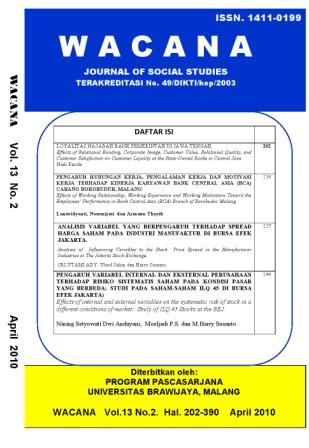 Downloads
License
Authors who publish with this journal agree to the following terms:
Authors retain copyright and grant the journal right of first publication with the work simultaneously licensed under a Creative Commons Attribution License that allows others to share the work with an acknowledgement of the work's authorship and initial publication in this journal.
Authors are able to enter into separate, additional contractual arrangements for the non-exclusive distribution of the journal's published version of the work (e.g., post it to an institutional repository or publish it in a book), with an acknowledgement of its initial publication in this journal.
Authors are permitted and encouraged to post their work online (e.g., in institutional repositories or on their website) prior to and during the submission process, as it can lead to productive exchanges, as well as earlier and greater citation of published work (See The Effect of Open Access).