PEMBERDAYAAN APARATUR UNTUK MENINGKATKAN KINERJA DI KECAMATAN BATU, KOTA BATU
Abstract
ABSTRAK
 
Penelitian ini bertujuan untuk (1) Mendeskripsikan, menganalisa dan mengintepretasikan aspek-aspek yang berhubungan dengan bentuk dan teknik/cara-cara pemberdayaan aparatur; (2) Mendeskripsikan, menganalisa dan menginteprestasikan aspek-aspek yang berhubungan dengan upaya meningkatkan kinerja aparatur Kecamatan Batu.
Penelitian yang dilakukan pada Kecamatan Batu Kota Batu ini menggunakan jenis Penelitian Diskriptif Kualitatif yang terbatas pada usaha mengungkapkan suatu masalah dan keadaan atau peristiwa sebagaimana adanya, sehingga bersifat sekedar untuk mengungkapkan fakta. Oleh sebab itu, penelitian ini lebih menekankan pada makna dari suatu proses daripada sekedar perhitungan statistik.
Hasil penelitian menunjukan bahwa upaya pemberdayaan aparatur yang ditempuh melalui bentuk dan tehnik atau cara-cara pemberdayaan secara langsung maupun tidak langsung telah diselenggarakan kendati belum optimal. Berbagai bentuk pemberdayaan aparatur yang diselenggarakan antara lain: (a) Pendidikan dan pelatihan, yang berfungsi meningkatkan kualitas manajerial dan profesionalisme aparatur; (b) Penyelenggaraan motivasi secara umum yang terdiri atas peningkatan penghasilan dan kesejahteraan aparatur, penyediaan sarana dan prasarana kerja, penyediaan sumberdaya keuangan pendukung kinerja dan pemberian penghargaan dan hukuman menghendaki adanya komitmen, peranan dan tanggung jawab lebih dari unsur pimpinan organisasi.  Teknik pemberdayaan aparatur ditempuh melalui serangkaian aktivitas penetapan visi, misi dan hasil capaian yang dikehendaki bersama, pendelegasian wewenang dan pengelolaan  sumberdaya organisasi, serta evaluasi pertanggungjawaban atas hasil capaian. Semua ini menunjukkan isyarat kurangnya keseriusan/ ketidak sungguhan sebagian pihak aparatur dalam unit kerja. Proses penetapan visi, misi hanya sekedar memenuhi aspek formalitas saja. Kinerja aparatur yang merupakan potret indikasi keberhasilan maupun kegagalan dalam proses pencapaian tujuan organisasi yang diselenggarakan oleh segenap aparatur dalam unit kerja Kecamatan Batu masih belum menunjukkan kearah peningkatan yang optimal.
 
Kata kunci: pemberdayaan, aparatur, kinerja
 
ABSTRACT
 
Research designates to (1) describe, to analyze, and to interpret many aspects connected with form and technique/means of apparatus empowerment; (2) describe, to analyze, and to interpret many aspects connected with effort of increasing apparatus performance in Batu Sub-district.
Type of research located in Batu Sub-district of Batu City classifies as Qualitative Descriptive confined on exerts of revealing one problem and event or condition as presented, as if just only uncovering the fact. Therefore, research supposes to stress on meaning of process rather than only statistical measurement.
Result of research indicates that effort of apparatus empowerment seems to be viewed through form and technique or means of direct or indirect empowering, though less optimum; 2) already managed apparatus empowerment comprises to: (a) education and training, functioned as increasing apparatus' managerial quality and professionalism to achieve consistency of maintaining and employing potential alumni among trained participants; (b) general motivation implementation consisting of increasing income and welfare of apparatus, providing facility and work infrastructure, giving financial resource to support performance, and rewarding gift and punishment to strengthen commitment, role, and responsibility more than just had by leadership. Some of all empowerment forms do not represent full authority of Batu Sub-district, but only depend on above level authority. Technique of apparatus empowerment, held through set of activities, such as determining vision, mission, and collective ends, delegating authority and management of organization resources, and evaluation of result, appears sign of lack of seriousness / unwillingness from part of apparatus in operational unit. Withstanding mainly to process of determining vision, mission remains only as fulfilling formality aspect toward organization image based on performance. Apparatus performance portrays succeed or failure indications during organization goal achievement in operational unit of Batu Sub-district, that reaching less than optimum. Performance measures, involved quantity, quality, time punctual and job acknowledgement, do not move linearly (imbalance). Potential apparatus of Batu Sub-district have capability of increasing performance, when empowering to do so.
 
Keywords: empowerment,  aparature, performance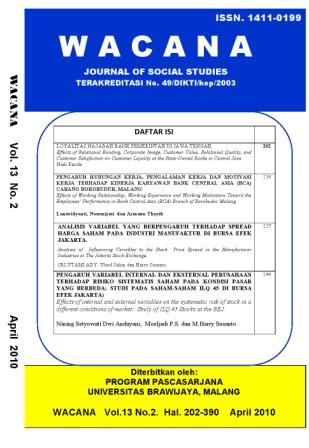 Downloads
License
Authors who publish with this journal agree to the following terms:
Authors retain copyright and grant the journal right of first publication with the work simultaneously licensed under a Creative Commons Attribution License that allows others to share the work with an acknowledgement of the work's authorship and initial publication in this journal.
Authors are able to enter into separate, additional contractual arrangements for the non-exclusive distribution of the journal's published version of the work (e.g., post it to an institutional repository or publish it in a book), with an acknowledgement of its initial publication in this journal.
Authors are permitted and encouraged to post their work online (e.g., in institutional repositories or on their website) prior to and during the submission process, as it can lead to productive exchanges, as well as earlier and greater citation of published work (See The Effect of Open Access).