PERILAKU HARGA DAN VOLUME PERDAGANGAN (Studi Peristiwa Dampak Penundaan Pencairan Bantuan IMF pada Saham Dominasi Asing dengan Pendekatan Koreksi Beta)
Abstract
ABSTRACT
 
Theoritically has been stated that any relevant informations can create any market reactions indicated by price behaviour and trading volume. Research aimed  at analysing market reaction through any indicator of  cumulative abnormal return (CAR) and cumulative abnormal trading volume (CATVA) resulted by the delay of IMF grant.  Research was focused on the broad dominance stock and domestic dominance stock as a comparation. Market model approach was used in this analysis and the beta corection model to determine the expected return.
Results show that delay of IMF grant contain any negative informations indicated by the significant reduce of CAR and CATVA, before and after annoucement.
 
Keywords: prive behaviour, CAR, CATVA, trading volume
ABSTRAK
 
Secara teoritis dinyatakan bahwa informasi yang relevan dapat menimbulkan reaksi pasar yang dapat tercermin dari harga dan volume perdagangan.
Penelitian ini bertujuan menguji reaksi pasar melalui indikator cumulative abnormal return (CAR) dan cumulative abnormal trading volume (CATVA) akibat pengumuman penundaan pencairan bantuan IMF. Obyek penelitian dilakukan pada saham dominasi asing dan sebagai pembanding dilakukan pula pengujian pada saham dominasi domestik. Pengujian dilakukan dengan pendekatan market model dan menambahkan model koreksi beta untuk penentuan expected return.
Hasil penelitian yang diperoleh menunjukkan bahwa pengumuman penundaan bantuan IMF memiliki kandungan informasi negatif yang terlihat dari adanya penurunan CAR dan CATVA yang signifikan sebelum dan setelah pengumuman.
 
Kata kunci: Perilaku harga, CAR, CATVA, volume perdagangan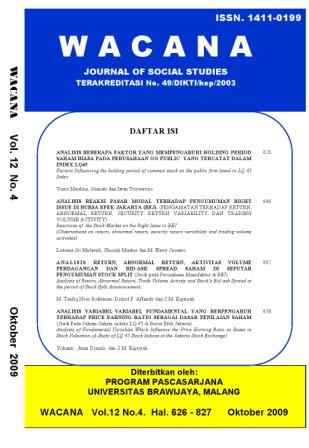 Downloads
License
Authors who publish with this journal agree to the following terms:
Authors retain copyright and grant the journal right of first publication with the work simultaneously licensed under a Creative Commons Attribution License that allows others to share the work with an acknowledgement of the work's authorship and initial publication in this journal.
Authors are able to enter into separate, additional contractual arrangements for the non-exclusive distribution of the journal's published version of the work (e.g., post it to an institutional repository or publish it in a book), with an acknowledgement of its initial publication in this journal.
Authors are permitted and encouraged to post their work online (e.g., in institutional repositories or on their website) prior to and during the submission process, as it can lead to productive exchanges, as well as earlier and greater citation of published work (See The Effect of Open Access).