PEMBERDAYAAN PEREMPUAN PERDESAAN DALAM PEMBANGUNAN (Studi Kasus Perempuan Di Desa Samboja Kuala, Kecamatan Samboja, Kabupaten Kutai Kertanegara)
Abstract
ABSTRAK
 
Latar belakang penelitian ini adalah belum diikutsertakannya perempuan perdesaan di dalam berbagai aspek pembangunan, sehingga mereka perlu diberdayakan agar dapat berfungsi sebagai subyek maupun obyek di dalam pembangunan, baik sebagai perencana, pengambil keputusan, pelaksana, maupun masyarakat dan menikmati hasil pembangunan secara merata.
Tujuan penelitian ini dilakukan untuk mendiskripsikan, menganalisis dan menginterpretasikan aspek-aspek yang berhubungan dengan: (1) Latar belakang kehidupan sosial perempuan di desa Samboja Kuala, (2) Upaya yang dilakukan perempuan di desa Samboja Kuala dalam memenuhi kebutuhannya, (3) Upaya  yang dilakukan untuk memberdayakan perempuan di Desa Samboja Kuala.
Penelitian ini menggunakan metode kualitatif dengan bentuk studi kasus, pengumpulan data dilakukan dengan menggunakan teknik wawancara mendalam, dokumentasi dan observasi, yaitu model interaktif.
Hasil penelitian menunjukan bahwa latar belakang perempuan di Desa Samboja Kuala Kecamatan Samboja Kabupaten Kutai Kartanegara sebagian besar memiliki pendidikan yang rendah,  pernikahan diusia muda menyababkan mereka tidak mampu bertahan dan akhirnya bercerai, sehingga secara sosial dan ekonomi tidak dapat berdaya.
Upaya yang dilakukan oleh perempuan di Desa Samboja Kuala dalam memenuhi kebutuhan rumah tangganya adalah mereka berupaya menjadi tenaga buruh seperti pembuat ikan kering, penimbang ikan di TPI, pembuat keranjang tempat ikan dan membuka toko dengan skala kecil.  Upaya yang dilakukan dalam rangka memberdayakan perempuan di Desa Samboja Kuala adalah dengan diberikannya keterampilan dan pelatihan, adanya bantuan modal  bergulir serta bantuan dalam bentuk peralatan.
Secara umum perempuan Desa Samboja Kuala masih perlu diberdayakan mengingat pendidikan mereka yang masih rendah, banyak dari mereka menyandang status janda sehingga mereka hanya mengandalkan tenaga untuk memenuhi kebutuhan rumah tangganya tanpa memiliki keahlian maupun ketrampilan.  Sehingga mereka secara umum dapat ikut serta didalam pembangunan baik sebagai subyek dan obyek.
 
Kata Kunci: pemberdayaan, perempuan, pembangunan
ABSTRACT
The background of this research is that the rural women are not being included on the all aspect of development; therefore they should be empowered to become the subject or object function on the development. They can be empowered on planning, decision making, managing or customer to get the benefit of development
The objective of this research is to get a description, analysis and interpretation of all aspect related with: (1) Background of women social life in Samboja Kuala village, (2) Effort from the women of Samboja Kuala village to fulfill their need, (3) Effort to be done to empowering the women of Samboja Kuala village.
This research use qualitative methods with case study, data collection has been done with interview technique, documentation and interactive observation.
The result of this research show that almost all background of women on Samboja Kuala village Kecamatan Samboja Kabupaten Kutai Kartanegara having low level education, early marriage cause them which can't pretend their marriage and force them to divorce, which also cause their social and economy can't be held.
The women of Samboja Kuala village have been work as dry fish maker, fish weightier on fish auction place or open little shop as their effort to fulfill their household need. The for which has been done to empowering the women of Samboja Kuala village is present and practice them with skill, give them with capital aid and equipment aid.
In general, the women of Samboja Kuala village should be more empowered in remembrance of their low level education, most of them have widow status which only realy on their physical to fulfil their household income without skill and specialization. Therefore they can participate on the development as a subject and object.
 
Keywords: empowerment, woman, development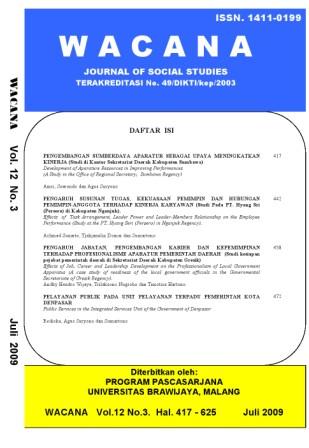 Downloads
License
Authors who publish with this journal agree to the following terms:
Authors retain copyright and grant the journal right of first publication with the work simultaneously licensed under a Creative Commons Attribution License that allows others to share the work with an acknowledgement of the work's authorship and initial publication in this journal.
Authors are able to enter into separate, additional contractual arrangements for the non-exclusive distribution of the journal's published version of the work (e.g., post it to an institutional repository or publish it in a book), with an acknowledgement of its initial publication in this journal.
Authors are permitted and encouraged to post their work online (e.g., in institutional repositories or on their website) prior to and during the submission process, as it can lead to productive exchanges, as well as earlier and greater citation of published work (See The Effect of Open Access).