PARTISIPASI MASYARAKAT DALAM PEMBANGUNAN PRASARANA JALAN
Abstract
ABSTRACT
 
This research has been conducted based on the reality about the lack fulfillment of road infrastructure for community, although in the development the transportation got higher budget then other, so the Participation of Society in Road Infrastructure Development need to be investigated further.
The aim of this research to know the clearer picture about the society involvement in road development process, through further investigation to society participation in Road Infrastructure Development efforts and the process of participation emerge.
The results showed that Society Participation in Road Infrastructure Development proportional with the society's will for the better road infrastructure. The wills depends on experience, knowledge, and education directly or undirectly. The participation form proportional their own and some thing that they can do, while the participation emerge process along with society wish to get their result of their effort.
One cause of society willing to participate in development is their authority, if they have very little authority then they reluctant to participate, while the improvement programs for road infrastructure that have been done give little authority to the society. Implementation process for road infrastructure that oriented to society participation and interest should give much authority to society appropriate with their knowledge, skill and education that can support the program.
 
Keywords: participation, infrastructure, development
 
ABSTRAK
 
Penelitian ini dilakukan atas dasar kenyataan tentang masih belum terpenuhinya kebutuhan masyarakat akan prasarana jalan, meskipun sebenarnya dalam pelaksanaan pembangunan, sekor transportasi telah mendapatkan porsi penganggaran yang lebih tinggi dibanding dengan sekor-sektor lain,  oleh karena itu Partisipasi Masyarakat dalam Pembangunan Prasarana jalan perlu dikaji lebih dalam.
Tujuan Penelitian ini antara lain untuk mengetahui gambaran yang jelas mengenai keterlibatan masyarakat dalam proses pembangunan jalan, melalui pengkajian yang lebih dalam terhadap partisipasi masyarakat dalam usaha pembangunan prasarana jalan dan proses munculnya partisipasi masyarakat tersebut.
Hasil Penelitian menunjukkan bahwa Patisipasi Masyarakat terhadap usaha pembangunan prasarana jalan sebanding dengan besarnya keinginan masyarakat terhadap ketersediaan prasarana jalan yang lebih baik. Keinginan masyarakat tersebut tergantung pada pengalaman, pengetahuan dan pendidikan yang mereka peroleh baik secara langsung maupun secara tidak langsung. Bentuk partisipasi masyarakat sebanding dengan apa yang dimilikinya dan apa yang dapat diusahakannya, sedangkan proses munculnya partisipasi masyarakat sejalan dengan munculnya harapan masyarakat untuk dapat memetik buah dari apa yang telah dilakukannya.
Salah satu sebab dari kesediaan masyarakat untuk berpartisipasi dalam pembangunan adalah otoritas yang mereka miliki, apabila sedikit sekali otoritas yang mereka miliki maka yang terjadi adalah keengganan untuk berpartisipasi, sedangkan program-program peningkatan jalan yang telah dilakukan sangat sedikit memberi wewenang kepada masyarakat secara langsung. Proses pelaksanaan pembangunan prasarana jalan yang berorientasi kepada kepentingan dan partisipasi masyarakat adalah pelaksanaan pembangunan yang memberikan otoritas sebesar-besarnya kepada masyarakat sesuai dengan pengetahuan, ketrampilan dan pendidikan yang dapat mendukung kelancaran program.
 
Kata kunci: partisipasi, pembangunan, prasarana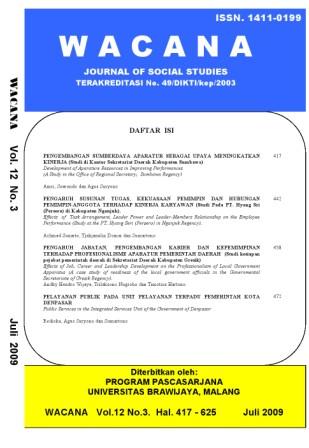 Downloads
License
Authors who publish with this journal agree to the following terms:
Authors retain copyright and grant the journal right of first publication with the work simultaneously licensed under a Creative Commons Attribution License that allows others to share the work with an acknowledgement of the work's authorship and initial publication in this journal.
Authors are able to enter into separate, additional contractual arrangements for the non-exclusive distribution of the journal's published version of the work (e.g., post it to an institutional repository or publish it in a book), with an acknowledgement of its initial publication in this journal.
Authors are permitted and encouraged to post their work online (e.g., in institutional repositories or on their website) prior to and during the submission process, as it can lead to productive exchanges, as well as earlier and greater citation of published work (See The Effect of Open Access).