PELAYANAN PUBLIK PADA UNIT PELAYANAN TERPADU PEMERINTAH KOTA DENPASAR
Abstract
ABSTRAK
 
Tujuan penelitian ini adalah  menjawab permasalahan tersebut di atas. Penelitian ini menggunakan pendekatan kualitatif yang berlandaskan phenomenologi. Dengan pendekatan ini dilakukan pengamatan yang bersifat holistik dan juga bersifat naturalistik. Sedangkan analisisnya menggunakan pendekatan analisis model interaktif dari Miles dan Huberman (1992). Fokus penelitian ini antara lain: 1) Kondisi desentralisasi UPT Kota Denpasar, 2) Kondisi internal UPT Kota Denpasar, 3) Kondisi eksternal UPT Kota Denpasar, 4) Kualitas pelayanan publik di UPT Kota Denpasar.
Penelitian ini menghasilkan temuan bahwa 8 kreteria standar yang dinilai sebagai ukuran adanya kualitas pelayanan yang baik, yaitu terdiri dari; 1) Kesederhanaan, 2) Kejelasan dan Kepastian, 3) Keamanan, 4) Keterbukaan, 5) Efisien, 6) Ekonomis, 7) Keadilan dan Pemerataan, serta   8) Ketepatan Waktu. Dari hasil pengamatan penelitian di lapangan terhadap 8 jenis pelayanan yang disediakan oleh UPT Kota Denpasar, baru hanya pelayanan Akta-Akta Catatan Sipil yang telah dapat memenuhi kedelapan ukuran kreteria standar tersebut. Sedangkan pelayanan Ijin Reklame baru dapat memenuhi tujuh ukuran kreteria standar tersebut dan pelayanan yang lainnya sebagian terbesar belum dapat memenuhi kreteria standar tersebut. Dengan demikian dari delapan jenis pelayanan yang disediakan oleh UPT Kota Denpasar, baru hanya pelayanan Ijin Reklame dan pelayanan Akta-Akta Catatan Sipil, yang telah dapat dikatakan memberikan pelayanan dengan kualitas yang baik. Sedangkan sebagian besar pelayanan yang lainnya masih belum dapat dikatakan telah memberikan pelayanan dengan kualitas yang baik. Jadi secara keseluruhan dapat disimpulkan, kualitas pelayanan publik yang berlangsung di UPT Kota Denpasar masih belum baik.
 
Kata kunci: layanan publik, kualitas
ABSTRACT
The research goal is answer those problems. Qualitative approach based on the phenomenology is used. The approach involves holistic observation other than naturalistic. The analysis tool is interactive model used by Miles and Huberman (1992).
Focus of the research including: 1) decentralization condition of  Compact Service Unit at Denpasar, 2 ) Internal condition of Compact Service Unit at Denpasar, 3) Eksternal condition of Compact Service Unit at Denpasar, 4) The service quality of Compact Service Unit at Denpasar.
Results show that the eight criteria used to value the services quality are  Simplicity,  Clarity and Certainty,  Security,  Openness,  Efficiency,  Economy,  Justice and Decentralization,  Timing accuracy. The adjustment at 8 service types provided by Denpasar public service unit by separate study, provides that only Civil Certificate Registration Office can obtain those standar. Service unit of Advertising Permission has achieved seven standards, but most of the rest are fail. From the eight of services provided by Denpasar service unit, only those two offices are called as good service quality provider. Most of the branch are still less in quality. Therefore, it can be summarized that the whole public services in Denpasar service unit still remains low or less.
 
Keywords: public services, quality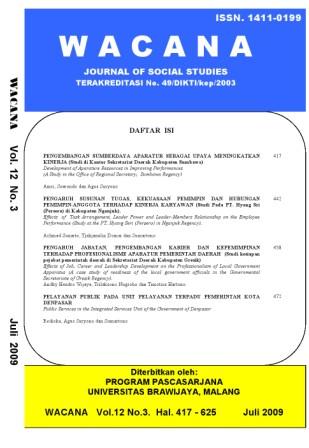 Downloads
License
Authors who publish with this journal agree to the following terms:
Authors retain copyright and grant the journal right of first publication with the work simultaneously licensed under a Creative Commons Attribution License that allows others to share the work with an acknowledgement of the work's authorship and initial publication in this journal.
Authors are able to enter into separate, additional contractual arrangements for the non-exclusive distribution of the journal's published version of the work (e.g., post it to an institutional repository or publish it in a book), with an acknowledgement of its initial publication in this journal.
Authors are permitted and encouraged to post their work online (e.g., in institutional repositories or on their website) prior to and during the submission process, as it can lead to productive exchanges, as well as earlier and greater citation of published work (See The Effect of Open Access).