PENGARUH SUSUNAN TUGAS, KEKUASAAN PEMIMPIN DAN HUBUNGAN PEMIMPIN-ANGGOTA TERHADAP KINERJA KARYAWAN (Studi Pada PT. Hyang Sri (Persero) di Kabupaten Nganjuk)
Abstract
ABSTRAK
 
Penelitian ini dilaksanakan untuk mengetahui pengaruh gaya kepemimpinan dengan situasi yang menyenangkan maupun tidak menyenangkan pemimpin jika ketiga dimensi di atas dimiliki seorang pemimpin yang akan meningkatkan kerja karyawan. Penelitian ini dilaksanakan pada PT. Sang Hyang Seri (Persero) di Kabupaten Nganjuk, yang terletak di Desa Tempel Wetan Kec. Loceret Kab. Nganjuk Propinsi Jawa Timur, yang dimulai bulan september sampai dengan nopember 2001.
Populasi penelitian adalah seluruh karyawan PT. Sang Hyang Seri (Persero) di Kabupaten Nganjuk yang berjumlah 53 orang. Pengambilan sampel dalam penelitian ini menggunakan Strata Random Sampling dimana semua karyawan dapat mewakili sebagai responden yang diambil secara proporsional sebanyak 34,6% yaitu 37 orang.
Hasil penelitian menunjukkan bahwa karyawan PT. Sang Hyang Seri (Persero) bahwa pengarahan dari pemimpin dalam penyelesaian tugas sebanyak 54,1% karyawan yang menyatakan jarang ada pengarahan, 40,5% karyawan yang menyatakan tidak pernah ada pengarahan dan 2,7% karyawan menyatakan selalu ada pengarahan. Adapun penggunaan kekuasaan posisi pemimpin untuk memberikan instruksi/perintah, penghargaan, sangsi/hukuman yang dijatuhkan terhadap kesalahan karyawan yang menyatakan selalu sebanyak 37,8% karyawan menyatakan sering, 35,1% karyawan menyatakan jarang, 21,6% karyawan menyatakan jarang diperlukan ada penilaian dan 5,4% karyawan menyatakan tidak pernah ada penilaian. Untuk tingkat hubungan pemimpin-anggota mengenai kepercayaan pemimpin-anggota terhadap pemimpin, dukungan pemimpin, kerjasama, suasana kerja adalah sebanyak 40,5% karyawan menyatakan sering, 29,7% karyawan menyatakan jarang, 24% karyawan menyatakan tidak pernah percaya dan 5,4% karyawan menyatakan jarang percaya terhadap dukungan sebanyak 43,2% karyawan menyatakan selalu mendukung, 35,1% karyawan menyatakan sering, 13,5% karyawan menyatakan jarang dan 2,7% karyawan menyatakan tidak pernah kerjasama.
Adapun untuk peningkatan kinerja karyawan dari hasil penelitian terhadap akmasi dan marjin kesalahan dalam penyelesaian pekerjaan sebanyak 51,4% karyawan menyatakan sering, 32,4% karyawan menyatakan selalu dan 16,2% karyawan menyatakan jarang berimbang dengan kekurangan, mengenai ketepatan waktu penyelesaian pekerjaan sebanyak 62,2% karyawan menyatakan sering tepat waktu, 21,6% karyawan menyatakan selalu dan 16,2% karyawan menyatakan jarang tepat waktu.
Dari hasil penelitian di PT. Sang Hyang Seri (Persero) di Kabupaten Nganjuk, menunjukkan bahwa susuan tugas, kekuasaan posisi pemimpin dan tingkat hubungan pemimpin-anggota secara bersama-sama terhadap tingkat kinerja karyawan adalah sebesar 62,6% sedang sisanya 32,4% dipengaruhi oleh variabel lain yang tidak diteliti misalnya : pelatihan, budaya kerja, iklim kerja, stres dan lainnya.
Variabel kekuasaan posisi pemimpin mempunyai pengaruh yang dominan terhadap tingkat kinerja karyawan dibanding variabel tingkat susunan tugas dan variabel tingkat hubungan pemimpin-anggota.
 
Kata kunci: kekuasaan pemimpin, kinerja karyawan
 
ABSTRACT
This research conducted to know the influence of leadership style with comfortable or uncomfortable situation if the three dimensions above owned by leader that will advance employee capacity. This research conducted at PT. Sang Hyang Seri (Persero) in Nganjuk Regency, it is located at Tempel Wetan Village, Loceret District, Nganjuk Regency of East Java, had began since September until November 2001.
The population here is all employee of  PT. Sang Hyang Seri (Persero) at Nganjuk Regency, the amount of employee are 53 employees. Sample taking here used Strata Random Sampling where all employees can represent as respondent that is taken 34.6% proportionally it is 37 employees.
The results showed that PT. Sang Hyang Seri  (Persero) employee, that briefing from their leader in completing their task, 54.1% declare there were seldom briefing, 40,5% no briefing and 2,7% say there were always briefing. Power usage of the leader to instruct, give reward or punishment to the employee's mistake, 37,8% employees say often, 35,1 say seldom, 21,6 employee say there is seldom appraisal and 5,4% no appraisal.  For leader – members relationship about the trust of employee to their leader, leader supports, cooperation, working condition, 40,5 employees say often, 29,7 say seldom, 24% say never trust and 5,4% say seldom trust to the support, 43,3% say always support, 35,1 say often, 13,5% say seldom and 2,7% say never cooperate.
Improvement of employee performance from research of acmation and margin in completing task, 51,4% employees say always, 32,4% say often and16, 2% seldom and balance with the weakness, about on time of completing the task, 62,2% employee say often on time, 21,6% say always and 16,2% said seldom.  From the results showed that task arrangement, leader power and level of leader-member simultaneously to the employee performance are 62,2% average while the remains 32,4% influenced by another variables that is not include in research, namely: training, wok culture, work climate, stress and others. Leader power variable has more dominant influence to employee performance than task arrangement and leader-members relationship variable.
 
Keywords:Â  leader, power, employee, performance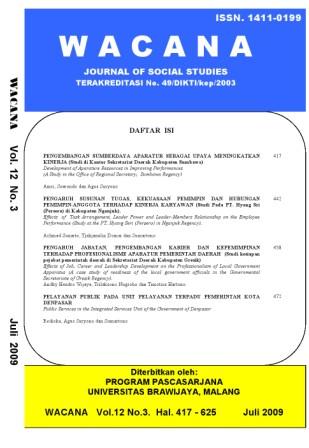 Downloads
License
Authors who publish with this journal agree to the following terms:
Authors retain copyright and grant the journal right of first publication with the work simultaneously licensed under a Creative Commons Attribution License that allows others to share the work with an acknowledgement of the work's authorship and initial publication in this journal.
Authors are able to enter into separate, additional contractual arrangements for the non-exclusive distribution of the journal's published version of the work (e.g., post it to an institutional repository or publish it in a book), with an acknowledgement of its initial publication in this journal.
Authors are permitted and encouraged to post their work online (e.g., in institutional repositories or on their website) prior to and during the submission process, as it can lead to productive exchanges, as well as earlier and greater citation of published work (See The Effect of Open Access).